Clinical Services
---
ECU Physical Therapy Clinic
The clinic is operated by ECU Department of Physical Therapy faculty who are licensed physical therapists and experts in evaluation and treatment of people with pain and movement limitations across the lifespan. The clinic also serves as a learning environment for ECU physical therapy students, who observe and participate in patient care with supervision from licensed physical therapists.
To make an appointment, call 252-744-4611
The ECU Physical Therapy Clinic is in the ECU Family Medicine Center at the following address:
ECU Physical Therapy
101 Heart Drive, Room L100A
Greenville, NC 27834
252-744-0172
252-744-0229 (fax)
PTCLINIC@ecu.edu
Monday-Friday 8:00 a.m.-5:00 p.m.
Parking available in front of building.
All major insurance carriers accepted, including Medicare and Blue Cross Blue Shield.
---
Therapists
Amy Wedge, PT, DPT, NCS, CBIS
---
Department of physical therapy student-run clinic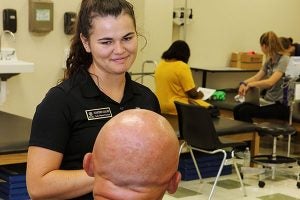 East Carolina University physical therapy students improve access to care for patients in the East with limited or no ability to pay and gain valuable career experience through an on-site, student-run clinic. For more information please contact Chris Lysaght, director of the Doctor of Physical Therapy Student Run Clinic at lysaghtc@ecu.edu.
Notice of Privacy Practices (pdf)